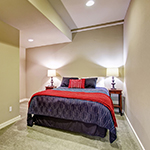 Lock out moisture when finishing your basement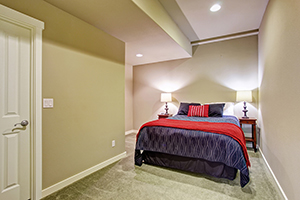 Without a major addition, it's pretty impossible to add square footage to your home. But what do you do when you're busting at the seams?
Adding more living space to your home can be as easy as finishing your basement.
Some people think finishing a basement is a simple DIY project. Throw a few studs up, slap some drywall on, paint, and – Voilà! — your new rec room is complete. While plenty of homeowners have finished their basement this way, improperly finished basements can become breeding grounds for mold.
Mold grows rapidly with three ingredients: spores, moisture, and organic material. All three are present in the standard materials used to finish basements. Mold spores are naturally occurring in the environment. Moisture is a constant in basements because they are below-ground and never dry out. Wooden studs and paper-coated drywall provide the organic component.
It's the perfect recipe for mold. Mold has implications for the health and wellness of your family and is costly to mitigate.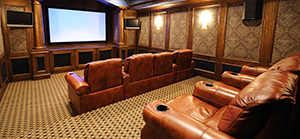 Craftsmen Home Improvements has the solution: a mold fighter finishing system.
"Our system doesn't use any organic components," said Pete Garich, general manager for Craftsmen Home Improvements.
Comprised of metal studs, purple board (drywall specifically made for damp areas), trim and casings made of composite material instead of wood, and moisture-resistant ceiling tiles, Craftsmen Home Improvement's approach to basement finishing is the gold standard.
"We're cutting off one of the three legs that's required for mold growth, and that is the organic material," Garich said. "We really feel this is the right thing to do. We've been in this business for 26 years, and we know basements are likely to have a mold issue. We just choose to do it the right way."
Constructed from components you won't find at your local hardware store, the mold fighter basement finishing system will have a higher price tag than one finished with the standard materials.
"You get what you pay for," Garich said. "Our system costs a little more up front, but as long as your basement remains water-tight, you're not going to have mold or have to tear it out later."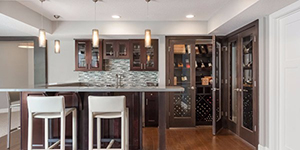 When it comes to finishing basements, flooring choices are important, too. Many homeowners want to put carpet in basements, but that's not recommended. Carpet also harbors moisture.
The best solution is luxury vinyl tile (LVT). This durable, water-resistant solution comes in a variety of high-end finishes, including options that look like real wood. With the addition of an area rug that can be removed and dried if moisture enters the space, you can warm up the room while saving yourself money and future headaches.
When it's time to finish your basement, do it right the first time. Work with the experienced contractors at Craftsmen Home Improvements to create a space that is just right for your lifestyle, one that will endure the natural moisture in basements and stand the test of time.