Due to technological advancements and resource availability, kitchen countertops have reached new heights in recent years regarding design, durability, and affordability. Researching and selecting the countertop surface that best fits your needs can be a difficult task. To help focus your selection process, you should ask yourself the following practical questions:
Am I going to worry about spills like orange juice or red wine?
Does it matter if I set hot pots or pans on my countertops?
Do I like a countertop with consistent color or one that is unique with patterns and veining?
Do I care if my countertop material is natural, plastic, or man-made?
Would I like the option of an integral or under mount sink?
How much do I have to budget for my countertop?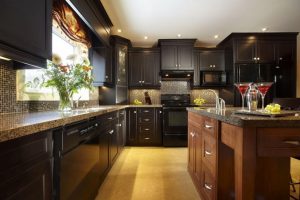 Once you have considered these questions, Craftsmen Home Improvements can help you find the right product for your lifestyle and design ideas. Visit one of our showrooms to view some of the styles and colors available today!
Types of Kitchen Countertops
Quartz
Quartz countertops are growing in popularity due to their nonporous and nonabsorbent surface making them durable and bacteria resistant. They are easily cleaned with soapy water and do not require periodic sealing, polishing, or reconditioning, which means there is no cost for upkeep.
Granite
Granite countertops are a great value because they are not only appealing and highly functional, but they can also last for decades. Since granite is a natural product, each and every slab has its own character and special beauty. You can pick the granite slab that will fit your personal taste and make your kitchen beautiful. Because granite resists scratches, scrapes, everyday wear and tear, and heat, it is ideal for any kitchen. Durable and appealing granite countertops are probably one of the most popular types of kitchen countertops and can be the finishing touch to any kitchen.
Marble
These stunning countertops will add a luxurious touch to your overall kitchen look. However, marble is fragile and can easily be scratched, chipped or cracked. Before you choose marble countertops, consult your Craftsmen Salesperson to see if they are right for you.
Laminate
Laminate is the most common of the top five kitchen countertop materials. Affordable, durable, and easy to maintain, these types of countertops provide a great solution for a kitchen remodel with a limited budget.
Solid Surface Countertops
Solid Surface countertops such as those offered by Corian are constructed of durable, man-made acrylic to provide years of low maintenance, beauty and service. Flowing, virtually seamless, organic shapes, bold effects of color and translucency – if it can be imagined, it can be created with a solid surface countertop.
Other Materials
Maple wood and stainless steel may be used for kitchen countertops, too; but they have specific applications. For instance, maple wood is best used as a butcher block and stainless steel is used for commercial kitchens, such as those in restaurants, cafes, and hotels.
You may choose any countertop material for your kitchen, but always remember that proper installation is the key to the finished look.
Request A Free In-Home Consultation
Fill Out The Form To Request A Free In-Home Consultation For Any Service: