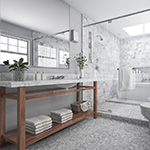 Home remodeling trends to look for in 2019
Trends can be fun to keep up with. When it comes to clothing, trendy pieces can be enticing to try on – pastels, pleats, poet sleeves. If you don't love the look, you're only out a little bit of money, and you might even be able to resell the fashion and recoup some cash.
But when it comes to trends in home remodeling, there's no "try it before you buy it" option. Once the new tile backsplash is installed, there's no going back.
Before you take on your home renovation project for 2019, check out these home remodeling trends and figure out which ones may be right for you.
1. Luxury vinyl tile: Luxury vinyl tile (LVT) is newer to the home renovation scene. With endless color options, a simple installation process, and plenty of patterns, LVT is a budget-friendly flooring solution.
"A lot of homeowners are installing LVT instead of ceramic or hardwood," said Doug Readnower, co-owner of Craftsmen Home Improvements. "It's easier to put in, very durable, and has lots of color options."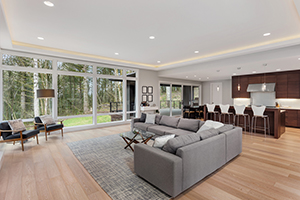 2. Open concept floor plans: As seen on HGTV, more homeowners continue to request the open concept floor plan when it's time to renovate. Moving or removing walls impacts the structural integrity of the home and requires an expert. While the end result can be dramatic, working with a team of contractors who have the knowledge and experience to guide the decision process and execute the plan is vital to a successful open concept renovation.
3. Finished basements: Finishing space in the basement is an affordable way to add living space to your home and increase your home's value. Open concept floor plans are beautiful, but if you have a growing family, you know everyone needs their own space at times.
"The open concept is great, as long as everyone is not looking to live in that one area," Readnower said. "Adding living space in the basement is a great way to give everyone their own breathing room."
4. Larger showers: A trend in master baths is to remove the existing tub and utilize the space for a larger shower. This provides more elbow room in the shower and allows for amenities like a built-in seat, handheld shower fixture, and beautiful tile surround.
"Fewer people say they take baths, and more people prefer showers," said Readnower. "Homeowners are opting for a more luxurious showering experience."
5. High-end counters: "For kitchen countertops, laminated counters are almost a thing of the past," Readnower said. "In most of our projects, everybody wants either granite or quartz as the countertop of choice, and then finishing off the kitchen with a beautiful tile backsplash."
6. Good-bye carpet: Carpet can harbor all kinds of nasty things: dirt, mold, and pet dander. More homeowners are opting to install hard floor surfaces throughout their home, to make cleaning and upkeep easier and more hygienic.
7. Cool colors: Warm earth tones are a thing of the past — homeowners are choosing cooler tones for a brighter look. Grays, whites and pale greens are a perfect pallet for any home renovation project.
With so many great home renovation trends on the horizon for 2019, it's the perfect time to team up with an experienced contractor and transform your home into a space you love. Whether it's your kitchen, bath or basement, making an update to your home will not only help you enjoy it for years to come, but will add value to one of your greatest investments.