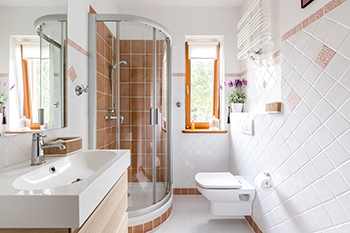 6 ways to make a small bathroom feel larger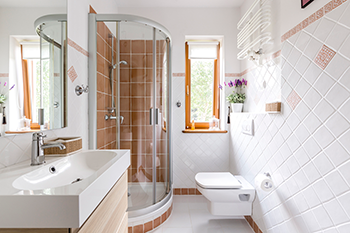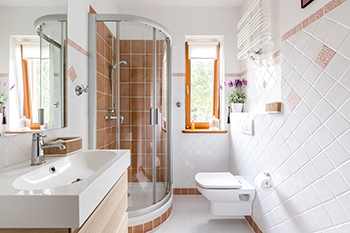 Unless you're living a lux life, your bathroom is probably small-to-average in size. Bathrooms are rooms that get frequent use by everyone in the family, not to mention where you might spend longer periods of time getting ready each morning. But small spaces can feel cramped and claustrophobic, and no one wants to start their day feeling like they've emerged from a dungeon.
Light, airy, refreshing spaces set a better tone for the start of anyone's day. If your bathroom is ready for a makeover, here are ways you can make your small space feel bigger.
1. Lighten up: When you start with a blank slate, you can choose colors that are light and neutral. For everything, from the walls and floors to vanities, selecting white, light greys or greens or blues is a great way to keep your eye flowing inside a small space. With fewer visual breaks, you can be visually tricked into thinking the space is larger.
Lighter colors not only keep your eye moving throughout the room, creating the illusion of more space, but light colors also reflect light instead of absorbing it. Brighter, more airy spaces tend to feel larger.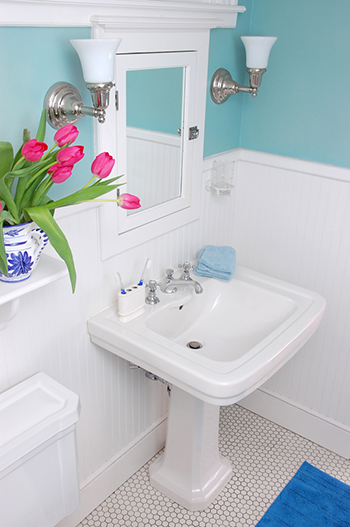 2. Go for glass: A glass shower surround will be more expensive than a traditional shower curtain, but allowing the full room to be visible, instead of closed off by a shower curtain, lets you feel the full amount of space every time you're in the room. A glass enclosure can make using the shower a completely different experience, with light streaming in from every direction. If you don't love the idea clear glass, you can always choose a frosted option.
3. Say vamoose to the vanity: Small bathrooms can struggle with storage, but adding a large bulky vanity to a small space makes it feel tight and cramped. Pedestal sinks are great options for smaller baths, providing open space around the sink area. If you can't see yourself functioning without some storage around the sink, consider smaller, sleeker vanity options or a floating vanity for a more
spacious feeling.
Recess cabinets: While it might not be an option in every space, consider recessing your cabinets or creating small niches for storage, instead of having cabinets that extend out from the walls. This can create more space in your bathroom. If recessing cabinets won't work in your bathroom, you might consider open, floating shelving as a way to provide storage without foregoing the floor space that cabinets take up.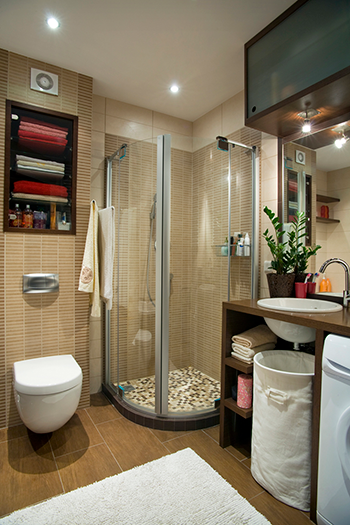 5. Illuminate with light: If your bathroom has a window and plenty of natural light, your space will naturally feel bigger. Don't obstruct your natural light with bulky window treatments. Opt for a frosted glass window or simple window treatments that may only cover the bottom part of the window, allowing light to come in from the top.
If you don't have great natural light, and a lot of small bathrooms don't, be sure to add plenty of lighting during your renovation. Options include overhead lighting, a light and fan comb in the shower (especially if you have a traditional tub with shower curtain), and brighter lighting around the vanity or mirror.
6. Reflect the beauty: Large mirrors are a perfect addition to any small space. Not only does a mirror reflect light and create the illusion of more space, but after you've invested time and money into the renovation of bathroom, taking it from boring to beautiful, you want to be able to see the fixtures and finishes from every angle.
Small bathrooms aren't hopeless spaces. With the right contractor and an intentional plan, you can make simple changes that will enhance any small space, turning your "little bathroom" into a mini-spa experience.