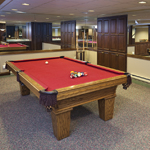 Finishing a basement: 5 important things to know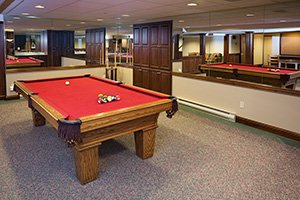 When you think "basement," you don't have to imagine low ceilings, damp smelling, poorly lit, useless spaces (except for the perfunctory laundry hookups).
With the right planning and execution, basements can be refinished into spaces that best suit your family's needs: home gym, playroom, craft space, office, home theater, game room, bar and wine cellar, the list could go on.
When you're refinishing a space, it can become uniquely yours. No matter how you decide to refinish your basement, there are some fundamental steps to take. Here are five of the most important things to know before finishing a basement.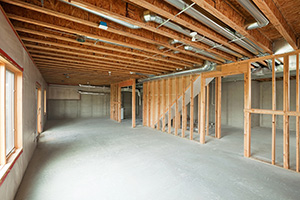 1.Water is not welcome: Sometimes basements are synonymous with unwanted water. Whether you have leaks or damp spots, both need to be addressed the same and resolved before you can consider refinishing a basement.
Unwanted water can result from different reasons. Sometimes downspouts and gutters need to be cleaned, or reconfigured and replaced. Occasionally, foundation repairs are necessary, and landscaping changes often can have a dramatic impact. No matter what the cause of water in your basement, failure to take your water problem seriously can result in serious damage to your newly finished space.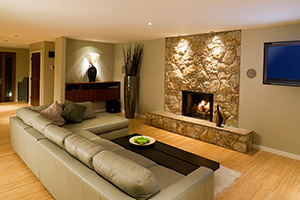 2.Can't forget the codes: Different municipalities have distinct regulations regarding home improvement and repair. Ensuring that your space meets code in all areas is not only a matter of safety; it can be a costly misstep to overlook this part of the process.
3.Keep noise and weather out: Insulating your basement is an important part of making the space comfortable and inviting. Keeping the basement warm in the cooler months can be difficult since heat rises. Proper insulation in the walls and the floor can help keep your basement temperature consistent. In addition to helping regulate temperature, insulation can filter noise, keeping the home theatre sounds from creeping into the upper living spaces, or preventing little footsteps above from disrupting work in the new home office.
4.Develop a plan: Having a professional draw up floor plans for the use of your new basement space is a step that cannot be overlooked. In addition to planning the right amount of space for the use you have in mind, floor plans can account for proper electric and plumbing needs and avoid costly mistakes.
Typically, basements are home to the utility components for the home. HVAC units, water heaters and softeners and laundry all typically reside in the basement. These important components must remain easy to access and cannot be blocked in by new walls in the basement configuration. Planning the space layout and how to access these important items must happen before construction can begin.
5.Lights, ceiling, action: Lighting and ceilings are critical elements to making a basement space feel like any other space in the house. Planning for the right lighting for your basement remodel will guarantee you'll want to use your new space. Failure to address the lighting needs means you might have a great space, but if it feels dark and dingy, you won't use it.
Basement ceilings also are important and must be finished properly. Having drywall ceilings makes the space seem less like a basement, but if you have pipes and other duct work in the ceiling that you may need to access, permanently sealing the ceiling might not be an option. Fortunately, drop ceilings have come a long way, and there are options that can give your basement warmth and style without it feeling like a dated office building.
When it comes time to think about finishing the basement, the most important thing you can do is hire a professional. Working with the right contractor will guarantee that all the items on this list are taken care of and done right.