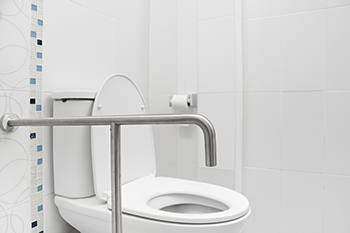 A guide to bathroom remodeling for seniors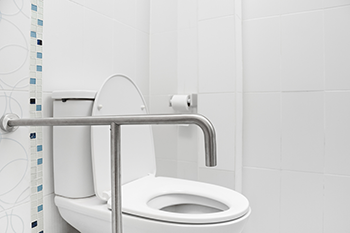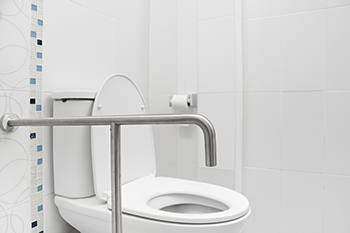 If you've watched a parent age, you know nothing is more difficult than having to make sacrifices that erode one's sense of independence, especially if it involves giving up their home.
So often, a parent's home is filled with warmth from memories and evidence of love and laughter that have been years in the making – growth charts marked on the closet trim, family pets buried under the tree in the backyard, secret hiding places for hide-and-seek, and the rosebush planted for Mother's Day.
Sometimes aging can happen in the comfort of home, with changes made here and there to accommodate special needs. In the case of bathrooms, there are plenty of ways to make them more accessible for an aging parent. Whether you're trying to keep your parent in their own home, or they are joining you in yours, here are six changes you can make to the bathroom to help your loved one age with ease.
Eliminate the bathtub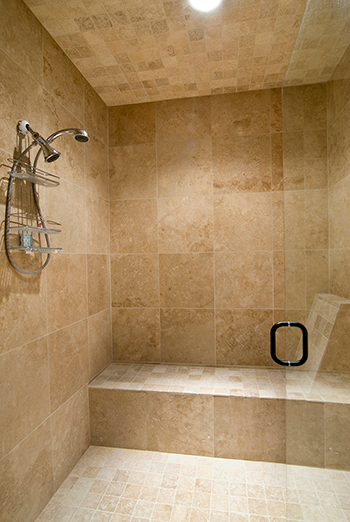 Replacing the bathtub with a walk-in shower is an excellent first step to make a bathroom more accessible. Walk-in showers eliminate the need for seniors to step into or out of the tub.
"If the aging parent really has a lack of mobility, you can do a curbless shower, where the shower floor is same height as bathroom floor, and there is nothing to step over," said Doug Readnower, co-owner of Craftsman Home Improvements.
Add amenities to the shower
A seat in the shower is a must for the aging population. Some shower bases come built with a seat already molded into them. Other times, seats can be constructed out of tile, making the shower space both beautiful and functional. Shower seats also can be purchased from box stores to keep the cost of this necessity very reasonable.
Grab bars are essential in the shower area, as well. "We like to do an 18-inch vertical grab bar right at the entrance of shower, where the person would grab hold and step over the shower basin edge," Readnower said. "We also place a 24-inch horizontal bar on the back wall, so they have something to hold onto and steady themselves, if they are standing to shower or to help them up from the shower seat."
Install a lift-off showerhead
Oftentimes seniors need assistance with showers, and if this is the case, a liftoff showerhead can help ensure all the soap is rinsed with ease. Liftoff showerheads can be a modest investment and make a big difference.
Remove slip and trip hazarders
Any wet, smooth surface is a slip hazard, making bathrooms dangerous territory. Shower floors should be "non-skid." Whether you are selecting a prefabricated polymer shower base or picking tile for the shower surround, work with a professional will ensure you identify the safest products for your bathroom remodel.
In addition, bathmats and throw rugs in a bathroom are potentially dangerous. If you're living with an aging parent, removing these after each use is the best way to prevent falls.
Talk about the toilet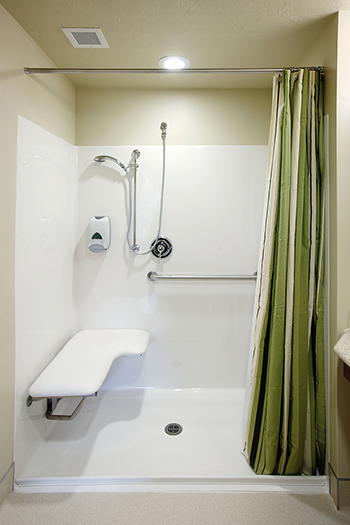 Toilets are the less-glamorous elements in bathroom remodels, but important changes to them can have a big impact for seniors. Comfort height-toilets are a must for the aging population. These commodes are higher off the ground, decreasing the strain on hips and knees.
Grab bars around the toilet are also a necessity, but when the toilet is nestled between the vanity and the tub, which is often the case, there was typically no place for a grab bar. However, fold-down grab bars are now on the market and can be installed to accommodate this need.
"People we have done the [fold-down grab bars] for have really appreciated them because they thought they were in a position where they couldn't have one installed," Readnower added.
For high-end remodels, electricity and water hookups can give the toilet bidet-style functions and can be excellent solutions when flexibility makes routine cleanliness more difficult. Some toilets also come with heated seats.
Don't forget the vanity
Installing bathroom vanities that are taller, usually the height of a standard kitchen counter, is an outstanding solution to decrease the bending and straining on the lower back.
"In fact, today when we remodel, that's the vanity height of choice for most homeowners," Readnower said. "Even middle-aged homeowners want them. When you're out working in the yard and straining, just having a little less stress on your back is one of life's little pleasures."
Whether you're looking to take on a complete bathroom remodel or just make simple upgrades to make your bathroom more accommodating for your aging parent, this list of essentials is a great place to start. When you have a basic idea of your needs and budget, contacting a professional to walk you through the process is the next step.