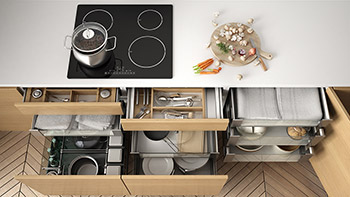 Storage upgrades for a small kitchen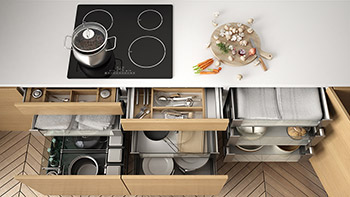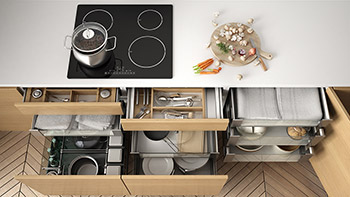 Kitchen remodels are usually thought of as synonymous with luxury: spacious kitchens with room for a large island, plenty of counter space to incorporate a separate prep sink, double ovens, lavish lighting, and lots of fancy fixtures and finishes. But sometimes practical, useful solutions for storage can bring their own element of luxury. If you've got a kitchen on the smaller side, don't put off upgrading because of size.
Just because your kitchen isn't big on space, doesn't mean it can't be packed with useful upgrades that turn your small, so-so kitchen into a dreamy space. Here are some kitchen upgrades that can pack a powerful punch when it comes to storage solutions.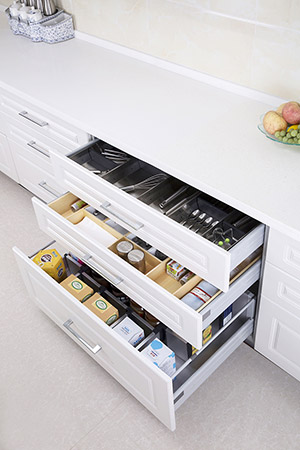 Sign-up for spice solutions
Pull-out spice drawers are an upgrade that can be added to any kitchen. These tall, slender drawers fit between standard base cabinets. They don't require a lot of space to incorporate and can accommodate the variety of spices used by gourmet cooks.
Say goodbye to scattered silverware
Tired of your plastic silverware drawer insert? This crumb-collecting solution to keeping silverware organized can receive quite the upgrade. Silverware drawers with beautiful, built-in wooden trays are a vast improvement over the standard plastic tray and can be stacked two-deep, so that the top organizer slides out of the way to reveal a second level for additional silverware or knives.
Tuck away garbage and recycling
Trashcans are an eyesore and take up useful space for moving around in the small kitchen. If you're sick of trying to hide your trashcan under the kitchen sink and have no place to even consider putting a recycling bin, adding a pull-out trash and recycling station is ideal. A standard cabinet front door actually functions like a large drawer and slides out to reveal an area big enough for two decent-sized trash bins. Use both bins for trash, or save one for recyclables.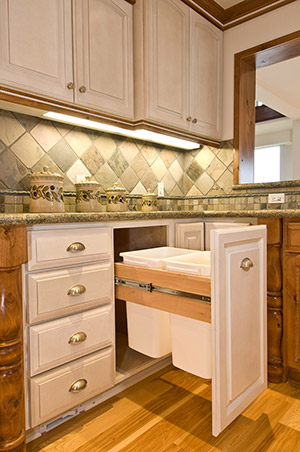 Hide unsightly sponges
Make use of the "fake" drawer under most kitchen sinks by adding a small tip-out tray just big enough for the scour pad, sponge and bottlebrush.
Turn things on their side
Stacking baking trays, muffin tins cooling racks and other large kitchen items takes up valuable kitchen real estate. Plus, when it comes time to remove the cookie sheet on the bottom, everything on top has to come out first, which is less than ideal. Including dividers in one of your cabinets allows you to turn baking sheets and other essentials on their side, sliding them vertically into and out of the cabinet with ease.
Stop stacking pots and pans
Including a pullout organizer for pots and pans eliminates the strategic stacking-and-nesting game that takes place in most kitchens. These pull-out organizers come in a few different designs and styles — some allow pans and lids to hang from the top of the cabinet and pull out, while others use a shelving system that stacks pots without having to nestle them inside one another.
Don't put off a kitchen remodel because you don't think you have the space to create a dream kitchen. Incorporate some smart storage solutions, add some fancy finishes, and you'll be amazed at how easily you can upgrade your small kitchen.