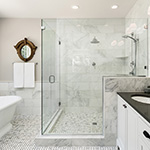 How to select the right flooring for your bathroom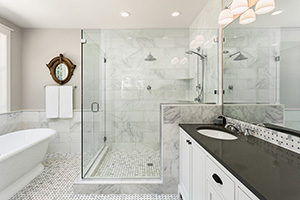 Each day we are inundated with choices – whether or not to hit snooze, which route to take to the bank, what to make for dinner, and on it goes.
If you've ever been through a home renovation, you know the number of choices that need to be made can be daunting. From big ones like room layout, costly fixtures and furniture, to paint colors and outlet placement — the list is endless.
Doing your research long before the renovation process begins can help decrease the overwhelming feelings that come with renovations. If a bathroom renovation is in your future, flooring choice will be a big decision.
Considering flooring options in advance can help you know what product is right for you and your home.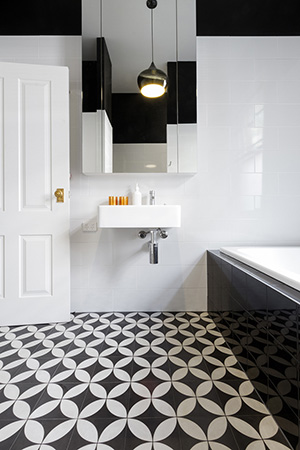 Always avoid carpet
Flooring that is resistant to water is your best bet for a bathroom makeover, so you'll want to be sure to steer clear of carpeting. Carpet harbors moisture, and in a space with repeated water exposure, mold and damage are inevitable. Water permeates the carpet, where it can cause the carpet padding to deteriorate and result in damage to the subfloor.
Water-resistant options
Porcelain or ceramic tile, vinyl sheets and natural stone are the options you'll see in most high-end renovations, and all are excellent water-resistant options for bathrooms.
1. Tile: Tile is ideal for a bathroom where frequent water exposure is likely. Most tile is stain-resistant and is considered a low-maintenance flooring option. Tile can come in a variety of colors, shapes and textures, with finishes that can look like natural stone without the high price tag. Wood-look tile is also an option for homeowners who love the look of wood but want the durability of tile for a bathroom. The durability and water impermeability of tile means it can last a lifetime.
2. Vinyl sheets: Vinyl might not be on your list of flooring options to consider, but don't rule it out. While it's often used in commercial settings and might conjure up images of apartment bathrooms from your youth, the benefits of vinyl have it making its way into stylish homes across America. Vinyl is soft, pliable and warm, making it comfortable to feet. It comes in a variety of colors and is sold in tiles and sheets, allowing for plenty of design options.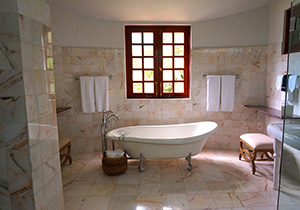 3. Natural stone: Marble, granite, slate, limestone, travertine, sandstone – there are a variety of natural stone options for bathrooms floors, and each is exquisite. Stone is unique and provides added drama in your bathroom. While stone surfaces can require extra care to maintain, they are beautiful and can last for generations.
Consider radiant floor heating
If you're looking to add a little bit of luxury with the flip of a switch, cold floors can be programed to warm your toes through electric resistance heat panels under the floor. Radiant floor heating can be added to ceramic or porcelain tile and most natural stone options. Depending on the manufacturer, it can be used with vinyl sheet flooring, as well.