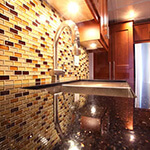 Upgrade your kitchen with a new tile backsplash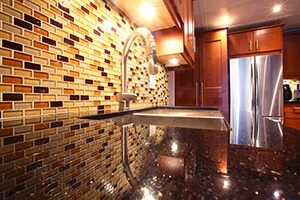 Professionals agree that one of the best ways to add value to your home is to upgrade your kitchen. However, if a full remodel isn't in the budget right now, there is a quick and easy way to add value to your kitchen without breaking the bank: a tile backsplash.
What is a backsplash
A backsplash is the tile that is installed on the wall space between the countertop and cabinet.
Benefits of a backsplash
In addition to being a relatively easy-on-the-pocketbook kitchen upgrade, there are many other benefits to adding or updating a kitchen backsplash including:
Cabinetry and appliances typically do not have to be removed when installing or replacing
It's a quick upgrade that can be completed in as little as two-to-three days
It's aesthetically pleasing and an easy way to add charm and character
It's functional in that it helps to keep the walls from getting dirty and is easy to clean
The options are endless as far as tile color, texture, and design
Cost of a backsplash
The cost of a backsplash depends on the materials you choose and the amount of wall space you'd like to cover. To give you some idea of the cost of installing a backsplash, here are some recent averages that homeowners have spent on their kitchen backsplash upgrade based on the square footage involved:
For 20 square feet of tile, you can expect to pay between $600 and $730
For 30 square feet of tile, you can expect to pay between $800 and $1,000
For 40 square feet of tile, you can expect to pay $1,000 or above
Tips for choosing your kitchen backsplash
With so many options available for tile color and design, choosing a backsplash can be difficult. Here are some tips to help you create the perfect backsplash to add value to your kitchen: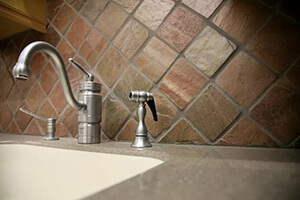 1. Neutral-colored tile and a simple design: If you are adding a backsplash for the purpose of resale value, think more neutral — accommodating the many different personal styles of prospective home buyers would be impossible. Subway tiles are great for creating a neutral backsplash. The timeless rectangular tiles are stylish, easy to maintain and durable enough to handle daily wear-and-tear. Travertine tile is also a great way to create a more neutral-colored backsplash, as it comes in an assortment of gold, cream, gray, white and brown colors. Travertine is a form of limestone, making it a porous and semi-soft material for a backsplash that will require a coat or two of sealant to keep mold and mildew at bay.
2. Create a focal point: Create a focal point around the cooking areas in your kitchen. For example, if you are using a neutral color tile for your backsplash, try to use a different color tile or design around the stove and perhaps even the sink. Subway tiles come in a wide variety of colors from which to choose.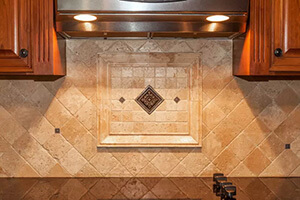 3. Accentuate: Another way to add character and interest to your backsplash without spending a lot of money is by using handmade ceramic tiles or some other more detailed, expensive tile as accents for your backsplash. It will provide a unique look at a fraction of the cost.
4. Change the orientation: For a more modern look, install your tiles vertically. Or, to make your backsplash a distinguished focal point in the room, try placing tiles on the diagonal.
5. Mix and match: If your counter tops are a solid color, a backsplash made up of colorful tiles looks great and won't clash with the counter.
6. Enlarging effect: To make a small kitchen appear larger, try using the same color tile all over the room, creating a sense of visual infinity.