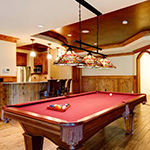 How to convert your basement into the ultimate man cave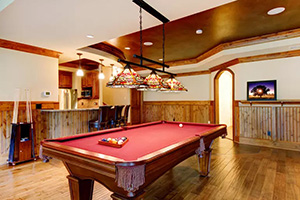 Ahhh…the man cave. The fortress where one can escape the banalities of domestic life and relax by watching sports, listening to music, or knocking back a few cold ones with friends.
If you have a basement that you aren't putting to good use, why not convert it to the ultimate man cave? Here's a list of essentials that every man cave should have:
1. Masculine finishes:
When it comes to design and décor, consider using more masculine lines, materials and colors such as wood paneling, frosted glass and cabinets and furniture in a dark-wood finish. Furniture upholstery could include plaid, hounds tooth, faux leather vinyl, stripes and studded trim. Other finishes, such as textured tile or laminate flooring, exposed brickwork and stone-clad walls add to the feel. Top it off with a blackboard-painted wall for impromptu betting odds and scoreboards.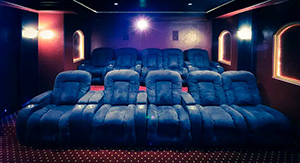 2. Big screen TV and surround sound:
You can't really call it a man cave until you have an all-out high-tech, audio-visual wonderland happening in your basement. Stick with the motto: go big or go home. Only a wall-mounted, big screen and/or multiple smaller-screen televisions, each set to a different sports channel, will do. And don't forget about the concert-quality sound system.
3. Storage for all of your sports memorabilia:
Man caves and sports go together like sports bars and beer. Built-in storage and customized display cases maximize space and allow your trophies and memorabilia to take the place of prominence they deserve. After all, why not be surrounded by sports as you're watching it?
4. Comfortable seating:
First and foremost, your favorite recliner (a.k.a. "the throne") is a non-negotiable — whether it matches your man cave décor or not. Ample seating for your guests is a must. Think leather recliners, preferably with cup-holders, or big sectional couches.
5. Good lighting:
The right kind of lighting can take your man cave to the next level. Incorporate features like TV backlighting, display/memorabilia shelf lighting, rope lighting underneath the bar counter, and being able to toggle effortlessly between sports-bar and movie lighting with the flip of a switch.
6. A bar:
A key purpose of a man cave is to have easy, effortless access to snacks and cold beverages. We're talking about a full bar, complete with a counter, bar refrigerator with an ice maker, plenty of bar stools, and anything else you want to include to give this space that pub feel. Don't forget the mother of all man cave "musts": the kegerator!
7. Games and tables:
Whether it's a poker table, foosball table, pool table, pinball, skee-ball, dart board, or a classic arcade game, when it comes to your man cave, the number of games and tables you can have is limited only by the space available.
8. A bathroom:
Your man cave bathroom design and décor should match the rest of your space. Again, think masculine lines, materials, and colors — a rustic cabinet with a stone basin, or maybe an industrial style basin. Also, if you have the space, add a shower and even a urinal.