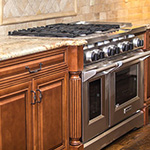 7 signs your kitchen needs a remodel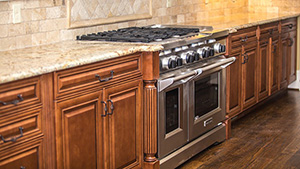 Your kitchen should be as convenient, functional, and beautiful as possible. If your kitchen lacks any of these characteristics, then a proper remodel can deepen your satisfaction while also improving its overall value. A successful kitchen renovation can fix some of these frustrations that homeowners commonly experience.
1. Worn cabinets:
Builder-installed cabinets typically have a useful life of 20 years or less. The first thing to show wear-and-tear is the finish on the cabinet fronts. They will become worn where you touch them or where water has run down the front of the sink cabinet. The next thing to break is usually the drawer box because these typically are made of particle board, held together by staples. Today's cabinets have finishes that stand up to dried-on ketchup, mustard, eggs, wine, etc. Drawer boxes should be solid wood with dovetailed corners for added strength and self-closing for convenience.
2. Impractical layout:
If you are contemplating a new granite or quartz countertop, you also should evaluate your current cabinet layout and consider replacing those at the same time. If you replace only your countertop and opt for new cabinets in the future, you could be stuck with your existing cabinet layout. It's unlikely you will want to replace the granite that soon, plus it's very difficult (and potentially expensive) to remove intact quartz or granite once it is installed.
3. Lack of storage:
Installation of customized kitchen cabinets can help you fit all of your pots and pans into one area, so they'll be within easy reach when it's time to cook. Built-in storage solutions also make it easier to keep your kitchen organized, allowing you to find what you need when you need it.
4. Lack of work space:
A functional kitchen layout will have enough counter space and floor space to accommodate multiple people at one time. Installing designated task stations, including a kitchen island for food prep, a task sink for washing vegetables and a sink for cleaning dishes, can make it possible for multiple workers to handle different tasks at once.
5. Your appliances need frequent repair:
As they begin to reach the end of their service life, many kitchen appliances will begin to fail. If you find yourself calling appliance repair people on a regular basis, appliance replacement can save you time, money and trouble. Modern kitchen appliances are highly energy-efficient, which means that purchasing all new appliances also will help save you save energy and reduce your home's carbon footprint.
6. Your kitchen is dated:
A dated kitchen can drag down your home's property value by simply looking its age. If you're thinking about selling your home soon and would like to get the most from the sale, updating a shabby kitchen can improve the marketability and value of your home. Dated kitchen appliances and fixtures also have a way of becoming cracked and worn, which can make them more difficult to clean. Modernizing your kitchen will help ensure that the space is easy to maintain.
7. Your kitchen is enclosed: Modern families generally prefer open kitchens with few or no enclosing walls. Open kitchens allow families to spend time together even while they're working on separate tasks. If your kitchen is enclosed, knocking down a few walls will increase your family time while you cook meals.