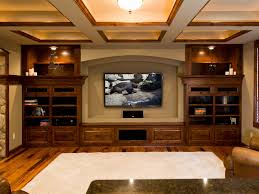 Seven Things to Consider for a Home Theater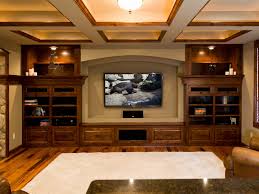 With no wait times or obnoxious audience members, having a home theater can be a dream come true for movie lovers. To do the job right, lots of space is needed and that means basement room. With all the diverse components that go into such a project, a professional is called for, but the decisions about what goes into the theater is up to the homeowner. There's a lot of room for variety, but it all can be boiled down to seven basic considerations.
The Big Screen: Large-screen TVs and projectors are the two main choices for viewing. Between the two, front projectors offer the largest images that easily exceed 100 diagonal inches, making them perfect for big get-togethers. The downside with projectors is that everyone needs a clear view of a large, open wall that'll either serve as the screen or provide its backdrop. This approach is also much more sensitive to light in the room.
Big Audio: While most big-screen TVs and even some projector units come with their own speakers, additional units allow for clearer, more realistic sound. The inclusion of a subwoofer adds even greater realism by generating the low, sonorous tones expected of big-screen movies. All of this requires a quality stereo receiver to make it work.
Source Material: The prime sources of content for viewing include cable, satellite, Blu-ray players, Internet streaming, gaming consoles, and even over-air signals. As this list might indicate, not only do these devices need to be installed, they also require extra controllers and wiring to coordinate them into a manageable system.
Lights Out: One consideration that involves a change to the designated room's electrical wiring is the possible addition of a dimmer switch. It's practically a necessity for a projector, but LCD, LED, and plasma TVs can still benefit from this. This is one thing that makes it obvious why a basement remodeling Cincinnati professional is needed.
Keep Quiet: Another beneficial component that only a basement remodeling Cincinnati professional can handle is soundproofing. Outdoor noises like traffic or lawnmowers are usually impossible to prevent. While some appliances can be turned off during TV viewing, things like heating and cooling equipment are unavoidable and often loud.
Sitting Down: Installing real theater seats can make the experience all the more authentic. Home furnishings like couches and overstuffed chairs, though, provide a more casual, relaxed setting for friends and family.
Feeding Time: Running to the kitchen for a snack can be a hassle, especially if it's upstairs. When guests are involved, this can be even worse since pausing the action becomes less of an option. A snack bar or similar arrangement can be a solution that gives the home theater a more realistic feel.
Master Plan: What these considerations show is that a home theater utilizes a diverse array of elements. Bringing them together requires expertise that professional companies like Craftsmen Home Improvements possess. Once the plan is in place and the theater is installed, though, the rewards make it all worth it.