4 Ways to Upgrade Your Bathroom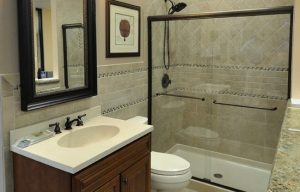 You might think of your bathroom as a room in your house where function outshines form, but this doesn't have to be the case. A bathroom renovation might be just what your home needs to come into the 21st century, and no bathroom is too small for an update. Switch from your tired design to some of these modern touches!
Spruce up Lighting: Basic bathroom lighting can make your home seem as though it's a cookie cutter apartment, and who wants that? Your current lightning might also be too dim for you to properly apply makeup or shave. There are plenty of options when it comes to brightening up your bathroom, too. Consider recessed lighting, sconces on either side of your mirror or lights that hang from the ceiling to give your space a retro ambiance.
A New Vanity: There are many options when it comes to replacing your old vanity. Add counter and storage space beneath the sink when you swap out your pedestal sink. A vanity also helps to hide unsightly pipes beneath the sink. You can make a bold statement with a sink basin that's raised from the surface of your vanity. Of course, the popular "His and Hers" style sinks are great whether you're sharing with your spouse, children or roommate. No one has to wait during the morning to brush their teeth or do their makeup!
Create a Spa Experience in Your Shower: Who doesn't feel relaxed after visiting the spa? You can create the same atmosphere in your home shower. Splurge on a shower head that has multiple settings and incorporates mood lighting via LED. Rain-fall shower heads have recently become popular. Body sprayers and steamers can also turn your shower time from necessity into the best part of your day. You might find that you don't even need a tub in your bathroom, and you can expand your shower with gorgeous glass doors and plenty of seating and storage.
Forget Your Old Floor: Replace chipped tile or laminate that's outlived its usefulness. There are plenty of ways to redo your bathroom floor that are functional and beautifully formed. For example, a checkered pattern is an easy way to make your bathroom floor pop while you can add diamond accents to your floor where the corners of tiles meet. Continue the tile pattern into your shower stall to pull the whole look together. Finally, consider paying a bathroom remodel Cincinnati contractor to install a self-heating floor. You'll never have to step from a warm shower onto an ice-cold floor in the winter time again!
A custom bathroom not only expresses your personality, it can add renewed functionality to a space that was poorly designed or no longer fits your lifestyle. Even a few small improvements to your bathroom can make a big difference. There are plenty of other ways to complete a successful bathroom remodel Cincinnati. Forget about traditional decor and design for the commode, and you might come up with something that's absolutely unforgettable!